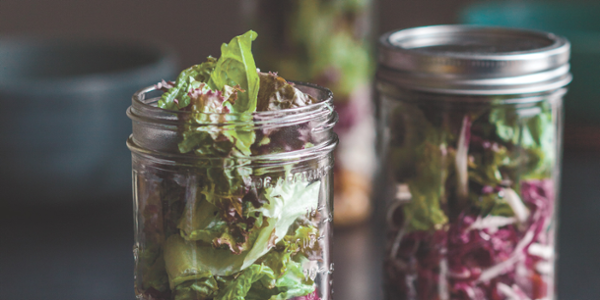 Lunch. It's often the most overlooked meal of the day. And studies show that many of us don't even leave our desk to enjoy our midday meal. In fact, only one in five people actually leave the office to eat lunch. How uninspiring…
Deadlines are a fact of life, but so is the need to fuel your body with healthy nutrients, especially if you need to think creatively to finish a project. An extra coffee run and an energy bar won't cut it for a lunch that's satisfying and keeps you full until the late afternoon. Here are some ideas for colorful, fun and easy ways to pack your own lunch.
Salad in a Jar:
They are the darlings of Pinterest for their colorful layers, but these portable salads are also a smart way to pack your greens. By putting the heavy and wet ingredients on the bottom, you avoid crushing the tender greens on top. My recipe for Salad in a Jar is from my cookbook, Eating in Color , and it's a delicious vegetarian option. You can certainly add canned tuna, cooked salmon, chicken or cubed tofu to it to up the protein factor.
Makes 4 salads
1⁄4 cup walnut or extra virgin olive oil
1⁄4 cup cranberry juice
1 tablespoon Dijon mustard
1 teaspoon agave nectar (light or dark)
2 teaspoons red wine vinegar
1/8 teaspoon salt
1/8 teaspoon freshly ground black pepper
1 teaspoon chopped fresh tarragon leaves (optional)
1 (15-ounce) can garbanzo beans, rinsed and drained
1⁄2 cup (3 ounces) crumbled feta cheese
1⁄4 cup (50g) dried cranberries
1 head radicchio, sliced crosswise into ribbons
1⁄2 head red leaf lettuce, chopped
1. In a medium bowl, whisk together the oil, cranberry juice, mustard, agave nectar, vinegar, salt, and pepper. Stir in
 the tarragon, if using. Place the beans in the bowl with the dressing, stir to coat, and set aside.
2. If creating jar salads, assemble the salad as follows:
• Place 1⁄4 cup of the bean mixture in the bottom of a tall mason jar. Follow with 2 tablespoons feta, 1 tablespoon cranberries, one-quarter of the radicchio, and one-quarter of the red leaf lettuce. Repeat with the remaining jars.
If making one large tossed salad, arrange as follows:
 Place the radicchio and red leaf lettuce in a large bowl. Top with the feta, cranberries, and bean mixture. Toss gently to combine.
CALORIES 331
FAT 18.6g (sat 4g mono 4g poly 8.8g)
PROTEIN 9g
CARBOHYDRATES 32g
FIBER 5g
CHOLESTEROL 17mg
IRON 1.8mg
SODIUM 428mg
POTASSIUM 412mg
CALCIUM 155mg
Wrap Skills
You can shave up to 120 calories by using a wrap instead of two slices of bread to make a sandwich. And wrap fillings are virtually endless! I love using ripe avocado with a squeeze of lime juice as the spread on my wrap, then you can layer on whatever protein you like—roasted turkey, tuna, hummus—and follow with colorful vegetables. Make it easy on yourself and buy pre-washed spinach and shredded carrots for quick assembly. And who said you can't use your wraps for breakfast on the go? I love using them for banana and almond roll ups. Scrambled eggs, salsa and sliced avocado is another favorite combination. Get creative!
Here's a thought—to add more variety to your lunch life, why not pair up with another co-worker or two and swap lunches. For example, on Mondays you can all bring in 4 jarred salads. You keep one for yourself and then give the other three to co-workers and they can do the same. Take that salad boredom!
Even if it's just for 10 minutes, I encourage you to grab your salad jar or wrap and head outside. Not only will you soak up some vitamin D, by switching up location, you'll be boosting your creativity as well.
Yours in Health,
Frances