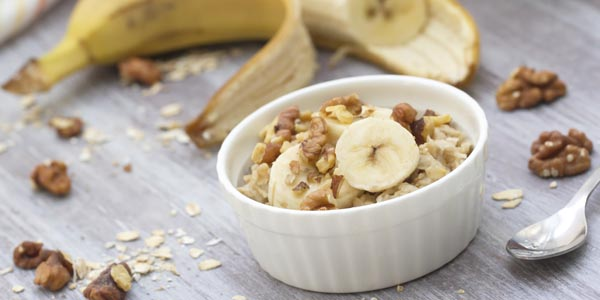 As I mentioned in last week's post on making time to unwind, I am ready for a summer break. That's probably why I've been fantasizing about our upcoming trip to the Catskills. Our family has been vacationing there for the last six years and we all look forward to that one week where we can just kick back and relax. As a mom of three, the best part of this vacation is not having to cook for or clean up after anyone for seven whole days. For me, this is pure bliss.
While I can't take you on vacation with me, I can offer up a recipe for breakfast that takes very little time to put together and provides a nourishing and delicious meal that is literally ready for you as soon as you open the refrigerator door. In fact, it's a recipe that's inspired by my time in the Catskills. It's from my cookbook,
Eating in Color
and is aptly called Mohonk Mountain Muesli.
What's so amazing about muesli, or overnight oats, is that you simply throw the ingredients together and then add whatever milk you like (dairy or otherwise) and place it in the fridge. When you wake up in the morning, there's no thinking about what to make, pulling out the blender, or waiting for something to toast. Just grab the bowl and eat! Or you can put it in a Mason jar and bring it with you on your commute. Think of it as the summer version of oatmeal.
And the
latest news on whole grains
, including oats, is super positive. Having three servings a day significantly lowers your risk of chronic conditions, including diabetes, heart disease, cancer and more. If you follow a gluten-free diet, simply choose oats that are certified gluten-free.
Mohonk Mountain Muesli
Makes 6 servings
Ingredients:
2 cups old-fashioned rolled oats
¼ cup flaxseed
¼ cup hemp seeds
½ cup dried apricots, sliced
¼ cup milk or milk alternative
½ teaspoon pure maple syrup (optional)
Nut and Fruit Toppings:
1 tablespoon sliced almonds
1/3 cup grapes, halved
OR
1 tablespoon chopped walnuts
½ medium banana, sliced
Steps:
Make the muesli: Place the oats, flaxseed, hemp seeds, and apricots in a bowl. Mix well and transfer to a jar or other airtight container.
To serve, place ½ cup of the muesli in a bowl and add the milk and maple syrup, if using. Cover and refrigerate for at least 2 hours or overnight. Stir and top with your choice of nuts and fruit.