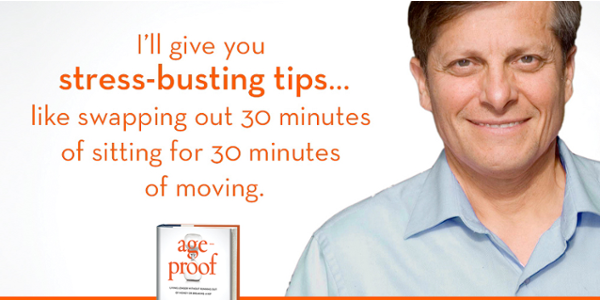 Recently I presented on the radio show the possibility, maybe the probability, that if you live past 2023, the average age of death may exceed 120, and with the quality of life you had at age 45 (yes, you can even improve on the quality of your health at age 45 – we consider that in our new book-shameless plug—but it is really good:
AgeProof: Living Longer Without Running Out of Money or Breaking a Hip
, to be released February 28
th
, 2017). And I can't help myself in giving you some of the "secrets" from that book so you can live longer better.
At no other time in our history has AgeProofing been as important as it is now; that's because we're living longer and longer—and need more money and better health to last those extra decades (yes, decades). While this change in longevity should be exciting, the truth is that longevity comes with a price. One, because we're living longer, it's more expensive to fund retirement. That's true even if you're in good shape (traditionally, maybe we lived only a decade or so past retirement, but what happens when we live for 30 or more years after we stop earning?). Surveys from financial institutions note that running out of money before running out of time is by far our biggest financial fear. One even found that running short of funds is a bigger fear even than death. Going the distance means we need a new set of skills, new strategies, and a new way of thinking.
The problem that many of us face is twofold. For one, we think of money and health the way we think of large-toothed forest-roaming beasts—they scare the heck out of us. Much of that fear is caused because we close our eyes, hope for the best, and are timid about confronting issues that feel as comfortable as a pair of not-quite-dry-from-the-drier underwear. And that's something we have to change (our attitude, we're talking about). We have to be open and honest, and have frank conversations about subjects that can make us squirm.
Not only are these two areas the most important issues when it comes to life satisfaction—that is, you want to live healthy and with as many resources as you can. But they're also cyclically connected—that is, how healthy you are has an effect on your bottom line, and your handling of money issues has an effect on how healthy you are. That's because health-care costs can be extremely costly (in direct ways, like the actual expenses of insurance and medical procedures, and in indirect ways, like being out of work because of health problems). It's also because money problems are the biggest source of stress for Americans. Stress has been linked directly to a whole bevy of medical issues, including heart disease, sleep problems, weight issues, and depression.
We have found that there are eight important ways to stay well and eight important ways to stay flush, and they intersect—and your future happiness depends on them. By diving into those areas—and, more important, the science behind them—we've developed a new approach to help you control your life and your happiness. What we're giving you is a new lens through which to view the choices you face, the decisions you make, the behaviors you adopt, and the goals you reach for. All drive toward the ultimate goal: AgeProofing your life by keeping your body young and your finances secure enough to go the distance (I teamed up with Today Financial Editor Jean Chatzky –she taught me a ton about finances, which we share with you).
It's not all about tips and tactics (though you'll find plenty of them), but that Jean and I found the common principles and themes for how to approach improving both your health and wealth. When you see the links, you'll gain inside insight into how you can use the same principles in both areas. For example, budgeting is something you may think of as something you do with money, but you can take the same approach to how you eat as well. You also will learn how to develop teams of comrades—professional and personal—who can help you face obstacles, make smart decisions, and fend off temptations.
Let me give 3 summaries from the Section "The Science of Catching Up"— and the Chapters:"How to Make Up For Lost Coin," and "Never Too Late, " or what we call "AgeProof Essentials".
1. You can't take back time. But you can make up for lost time.
2. Don't think of problems as dead-end streets. You always have the options to find side streets, alleys, and other routes to get you out of trouble—and on the highway to healthy and happy living.
3. The thing that scares many people about the problems they're having is that they know they might have issues that need to be dealt with, but they don't confront them. Only when you get a full assessment of where you are can you make the changes and employ the tactics to help you catch up. If that applies to you, re-read our opening section on the science of diagnostics (I'll summarize those next month I hope) and make a commitment to assess yourself as the first step to making up ground. Become aware, and then automate the solutions.
Yes, the book
AgeProof: Living Longer without running out of money or breaking a hip
has a safety deposit box full of information, and Jean and I are giving you the key. The AgeProof prescriptions are doable, are helpful, and make sense. I'll try to summarize many of these for you over the coming year. We hope to help
you live much younger & longer—so start preparing.
Thanks for reading Dr Mike Roizen
PS: please do look for and preorder or after February 28
th
, 2017 order the new book by Jean Chatzky and myself,
AgeProof: Living Longer Without Running Out of Money or Breaking a Hip
.