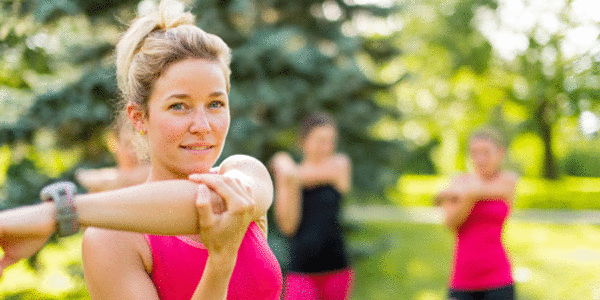 Over the years, a number of studies have shown that regular exercise can help protect women from breast cancer. And now a review and analysis of 37 studies performed between 1987 and 2013 involving more than four million women worldwide has found that exercise is protective regardless of a woman's age or weight. The only exception to the new finding applies to women who are on hormone replacement therapy, which may offset the positive effects of physical activity. All told, the review found that women who exercise for more than an hour a day could cut their breast cancer risk by 12 percent compared with women who don't exercise at all. The report didn't specify the type of exercise or the intensity required, but the lead researcher mentioned walking and biking as options. Results of the analysis also suggested that the exercise benefit extended even to aggressive types of breast cancer and held true regardless of where the women lived. The report was presented at the 9th European Breast Cancer Conference (EBCC-9).
My take? We have ample evidence that regular physical activity can reduce the risk of breast cancer, although findings often have been limited to women who began to exercise when they were young. These new findings are surprising in that the protective effect of exercise encompassed women who were overweight or obese. In the past, we've thought that exercise is protective because it helps reduce fat stores where estrogen is produced. A German study published in 2008 may have foreshadowed these new findings – it also showed that the protective effect was independent of body mass index or weight, but that study showed that exercise specifically reduced the risk of estrogen-receptor-positive breast cancer and found little protective effect for other types of breast cancer. An earlier study published in the Journal of the American Medical Association in September 2003 concluded that even women who don't begin exercising until later in life can lower their breast cancer risk by 20 percent and that a brisk, half-hour walk five days a week will do the trick.
Sources:
Mathieu Boniol et al, "Regular physical activity reduces breast cancer risk irrespective of age." The European CanCer Organisation (ECCO). "http://www.sciencedaily.com/releases/2014/03/140320100816.htm, accessed March 21, 2014
Abstract no: P102, "Physical activity, hormone replacement therapy and breast cancer risk: a meta-analysis of prospective cohort studies", Wednesday 19 March 12.30 – 13.30 hrs, poster session, poster area.
Originally published on
Dr. Weil's Blog
. Please feel free to share!
Copyright Dr. Andrew Weil, MD.