There's a formal series of questions called the CRAFFT Screening Tool,adapted from adolescent medicine and addictions expert Dr. John Knight, to screen for alcohol and drug addiction. It works equally well for other addictions, like Facebook, as shown below. Feel free to sub in whatever potentiallyaddictive substance or behavior you're concerned about. If you answer yes to any of questions, it can be a sign of a habit becoming an addiction.

1. Has anyone ever told you that you have a problem with Facebook, or that
you should cut down on your time on Facebook?

2. Do you wake up and immediately feel like you need to check Facebook
or have a Facebook fix?

3. Has being on Facebook ever caused you problems in the rest of your life
(like caused you to not study enough for a test or fail to finish a paper)?

4. Have you ever chosen being on Facebook instead of another pleasurable
experience, like hanging out with friends or family?

5. Have you ever missed a normal vital part of daily life to be on Facebook,
like joining your family at the dinner table or taking a shower?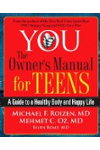 Continue Learning about Your Mind