First, see if you can quit cold turkey. Just stopping abruptly often works for those in the early stages of an addiction, as it's more like breaking a bad habit at that point. But once your brain has been hardwired to crave the substance or behavior, you may need additional help.

If you try to quit yourself but can't, seek help. Start with your doctor and/or your school counselor, to seek information on how to quit. Your parents may also be great resources, unless of course, they are using themselves.

If you think you can just use a little bit, think long and hard about the short and long-term consequences. Other helpful hints: Find friends who don't use.

A change of scenery or a change of companions can do wonders for discovering healthier ways to spend your time, energy, and money, and help remove you from the environment that can trigger a specific addiction. There's evidence that a young person's network of peers is a powerful determinant of his or her behaviors; it's hard to overestimate the influence that friends can have. That is why one of the strengths of Alcoholics Anonymous (AA), Overeaters Anonymous (OA), and other successful antiaddiction programs is that they provide a new peer group; instead of hanging out at the same old bar, you go to group. As a chronic disorder,
addiction requires long-term treatment that is usually measured in months and years.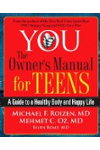 Continue Learning about Your Mind