Keep these tips in mind to stay safe online:

• Don't give out your personal information on Facebook or anywhere else in cyberspace. You do not need to share what school you go to, where you live, or any personal info.

• Don't upload photos that you would not want your grandma, college guidance counselor, school principal, or future employer to see. The Internet is a tattoo that cannot be removed.

• Don't email when angry. Really!

• Don't friend someone you don't know personally. Do you really want a stalker on your site?

• Don't involve yourself in sending porn, which is prosecutable. That means no sending a breast or bottom shot to a significant other, a best friend, anyone-- ever!

• Report harassing behavior. If it doesn't feel right, tell your parent, school guidance counselor, or another caring adult.

• Seek help if you are feeling bullied or harassed online.

• Be conscious of what brand of You appears on your Facebook or other social media site.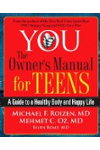 Continue Learning about Your Lifestyle