If practiced regularly, yoga can relieve muscular tension or pain by improving range of motion, relaxing tense muscles, and increasing muscle strength. Practicing yoga when you are feeling anxious may help to reduce stress when you are on the job or at home. In fact, findings show that, for some, just three months of weekly yoga training results in an increase in physical well-being, significant improvements in perceived stress, and a marked reduction of headache and back pain. Yoga also reduces blood levels of cortisol, which is important for reducing inflammation.

There have been several recent studies on yoga and pain and the findings are all encouraging:

• In one study, researchers concluded that yoga was effective at
improving function and reducing low back pain and the benefits
persisted for at least several months.

• Another study revealed that yoga improved carpal tunnel syndrome
after just three weeks of practice.

• A revealing study of patients with rheumatoid arthritis found that hand
grip strength of both hands increased in patients following yoga
practice.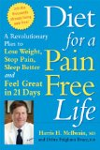 Yoga will help relieve stress and pain for a number of reasons. Many individuals are overly stressed. When we are stressed we are much more prone to injury as are bodies are overly tight. Taking yoga will help first relieve that stress. While practicing yoga, you must hold yourself in position for extended periods of time. While in these positions you will focus on your breathing. The more your control your breathing and the lower your heart rate will go. With a slowed heart rate, you will be able to center yourself and relax yourself. When you are relaxed you are not stressed and you are less likely to receive any form of injury.
Being stress free and pain free is not given, for some it comes easy and for others you must put in effort. Regardless, you will benefit from practicing this art form and your body will thank you!
Continue Learning about Yoga