Hip-openers are a favorite of most yoga practicers, as you tend to store emotional trauma and stress in the hips causing an unknowing clenching of the muscles. Opening poses can help release this tension and really lighten your mood. Tight hips are also very common because most of us sit at a computer all day, keeping our hips in a flexed position. The non-use of hip joint will cause shortening and shrinking of the hip flexor and decrease the ability to fully extend or straighten in the hip area. This can lead to lower back discomfort due to the shortened muscles across the front of the hips affecting the pelvis, which in turn affects the position and movement of the low back. Hip-openers can be really beneficial to your mental health, aid in good functional standing posture alignment, and aid in yoga posture alignment. A pose that is perfect for tight hips is Pigeon Pose, or Eka Pada Rajakapotasana in Sanksrit. Start on your hands and knees, with your hands aligned under your shoulders and your knees below the hips. Move your right knee forward, hugging it into the right wrist. Keep your right thigh parallel to the sides of your mat. Sweep your right shin and foot toward the left side of mat until the foot is directly below left hip. Lengthen your left leg back toward the back of the mat until it is straight and your toes are untucked. Once you have established yourself in this position, make sure that your hips are squared off and walk the hands or fingertips back in line with the hips. Take a gentle backbend for length, and lower both sides of your pelvis toward the floor. Your hips will have a tendency to lean to the right, so ensure that you keep your hips level to benefit fully from the stretch. If you cannot even out the hips, a blanket or prop can be placed under the right hip to equalize. As you inhale, extend your torso and spine. As you exhale, walk the hands forward and fold your body over the front right thigh until you can rest on the forearms and maybe release your head and neck until the forehead touches the mat. The sensation in this posture can be overwhelming at first and that is why it is important to continue breathing as your settle into the pose. If you experience pain, always back off just slightly to get to a place where you can breathe easily into the stretch. Stay in the modified position for several breaths, and with each exhale try to get a little bit closer to the final pose. Move on to the other side when ready.

Continue Learning about Yoga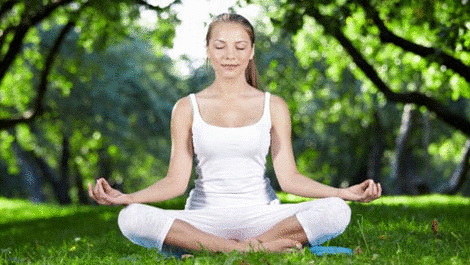 Yoga is powerful in relieving stress and aids in musculoskeletal strength. Stretching, deep breathing and toning boosts energy levels and benefits circulation and flexibility. Learn more from our experts about yoga.