With any type of yoga, you may find great benefit from the physical postures (asanas) to alleviate aches and pains. Also, you'll benefit from concentration exercises (dharana) to overcome dwelling on your pain problem, and meditation (dhyana) to help you focus on the present instead of ruminating about daily worries.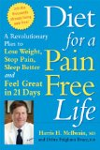 While all types of yoga seem to be a great way to increase flexibility, there are a few that are good for pain relief...and a few to stay away from.
Viniyoga in particular is excellent for pain relief. Viniyoga is focused repetition based postures that help bring alignment to the joints. Viniyoga is very user friendly and works well for any level exerciser.
Kundalini yoga is a more spiritual and faster paced yoga. It focuses on awakening your Kundalini which is the energy bound at the base of the spine. Kundalini yoga is said to open up your own personal healing pathways to loosen up stored energy and move fresh energu throughout the body.
Power yoga, Bikram yoga, and hot yoga should be avoided as they can cause strain on an already strained body.
Iyengar yoga focuses on alignment in the spine using props to perfect poses. Iyengar yoga is great for those who feel they need a bit more support in their practice.
First, we must figure out what type of pain you have? Is this pain in your back, your knees, your hips, your ankles? Once we are able to find this out then we would be able to prescribe the best form of yoga and exercise that will help you get healthy.
As for yoga, your best form, if in pain, would be a gently yoga. Most yoga studios will have special names for specific types of yoga. Try to find a facility that either offers beginners yoga or talk with a few instructors before taking a class and they should be able to assist or guide you in the right direction.
Continue Learning about Yoga