Here's a look at some health conditions affecting women that can be helped with yoga. Note, however, that you should consult with your healthcare professional before beginning any new exercise program.
Arthritis and fibromyalgia
Asthma -- The breathing exercises that are an integral part of yoga seem to give some people an element of control over their breathing, thus reducing the symptoms of asthma. It also strengthens the respiratory system.
Back pain
Carpal tunnel syndrome -- Research indicates that yoga is an effective treatment for this repetitive stress injury. One study revealed that carpal tunnel sufferers who regularly attended yoga classes experienced less pain, greater flexibility and a stronger grip than those who used standard treatment.
Endometriosis -- Yoga seems to provide some women with relief from the pain associated with endometriosis.
Epilepsy -- Some studies suggest that yoga may help people manage epilepsy. It may come down to stress reduction. Stress can be a precipitating factor for some seizures, and yoga promotes relaxation. But researchers say more studies are needed.
Chronic pain -- Yoga and other relaxation techniques have been shown to help reduce chronic pain. They are especially effective for chronic headache and muscle tension.
Diabetes -- Yoga is well suited for people with diabetes in that it improves circulation and promotes a regular exercise regimen.
Heart disease and coronary artery disease -- Yoga improves circulation and, as a stress-reducing or stress-management technique, it may play a role in halting or reversing heart disease. Healthcare professionals often recommend yoga or something similar for people with heart conditions.
High blood pressure -- Evidence suggests that yoga reduces stress and increases relaxation, which may have a favorable effect on blood pressure rates. There are studies suggesting that yoga may be effective in controlling high blood pressure, but more research needs to be done.
Menopause -- Yoga breathing techniques seem to help some women reduce hot flashes and other symptoms. Some yoga exercises stimulate the glandular and reproductive systems, helping to balance body chemistry.
Insomnia -- Relaxation therapies and physical exercise, including yoga, can help relieve insomnia.
Multiple sclerosis (MS) -- Yoga may help women with MS increase their physical functioning.
Osteoporosis
Premenstrual syndrome and menstrual cramps
Pregnancy
Continue Learning about Yoga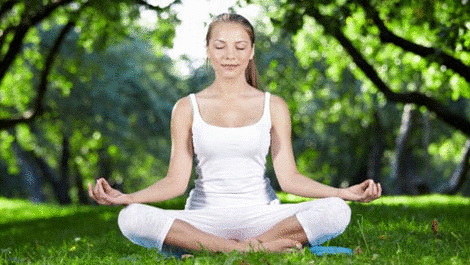 Yoga is powerful in relieving stress and aids in musculoskeletal strength. Stretching, deep breathing and toning boosts energy levels and benefits circulation and flexibility. Learn more from our experts about yoga.