A gentle course of yoga or tai chi that focuses on excellent form and is practiced on a regular basis can be immensely helpful for people with arthritis. Get clearance from your doctor first, and make sure you practice the movements under the guidance of an experienced professional. Yoga, in particular, can be dangerous if you push too far too fast.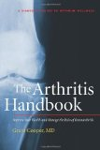 Yoga can actually have profound benefits for those suffering with arthritis (either osteo or RA) due to the effects in building bone density without causing stress to the joints. Yoga focuses on the overall wellbeing of the body and the body systems. This means it works a little deeper and helps us develop more mindfulness. This in turn allows us to pay attention to our bodies. By attuning to our bodies, we are then able to monitor what feels good and what doesn't. As a sufferer of severe osteoarthritis (and at only 33! I know, shocking) I find yoga to be of great benefit mostly because I can adapt the practice to my state that day. We all have good days and bad, but if you suffer from arthritis you bad days can be downright painful. On these days restorative yoga (using props to support the poses) is a great benefit. Through incorporating a daily yoga practice, my "bad" days are few and far between now.
www.michellecfitness.com/blog/
Yoga may assist to alleviate some of the pain that is felt with arthritis. The flexibility is great for your body. Be sure not to push too hard, be sure to get medical clearance, and be sure to take classes with a certified instructor. If you are able to complete all of these minor requirements then you will be in good shape!
Yoga may ease the pain associated with arthritis and also fibromyalgia, and there are classes designed specifically for people with these conditions. Few studies have been done, but anecdotal evidence (evidence based on personal observation as opposed to clinical research) indicates that arthritis sufferers find relief from yoga. A study suggested that mind-body techniques (including yoga) are effective complementary therapies for musculoskeletal disorders, including osteoarthritis.

For both arthritis and fibromyalgia, the stretching can temporarily relieve stiff joints, improve flexibility and circulation and stimulate the release of endorphins. The deep breathing and meditative aspects can help you deal with the stress of illness, especially something as frustrating as fibromyalgia.
Continue Learning about Yoga