Some remedies for kundalini syndrome include:
Stop energy-generation exercises and meditations temporarily.
Go on a cleaner diet: no meat or fish until you stabilize.
Take a salt bath daily.
Perform general sweeping and specific sweeping of affected parts daily.
Release the excess or blocked energies by blessing the earth with your outstretched hands, just as you did in the Meditation on Twin Hearts. This alone will induce a sense of inner peace and relief from congestion.
That should take care of kundalini syndrome within a couple of days.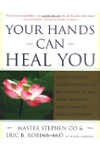 Continue Learning about Yoga