The modified dog pose helps to build strength and flexibility and can be done anywhere. Stand facing a wall. Spread the soles of the feet and the toes wide for balance. Place the palms of your hands on the wall in front of your waist, and then step back two or three feet, bend forward, and straighten your arms. Press into the wall with your hands, spreading the fingers and palms wide. Engage the hand muscles, wrists and forearms, as you do so. Your back and spine should now be parallel to the floor. Stretch the tailbone away from the wall, and lengthen the sides of the torso from the armpits to the hips. You should feel length through the arms and torso.

Engage the backs of the legs. Now press the heels into the floor and lift the hips (sits bones) toward the ceiling, feeling a nice stretch in the back of the legs. Lift the knee muscles into the quadriceps, and engage the quadriceps as you continue stretching the hamstrings and the back of the legs. Lengthen the arms, torso, and legs, as the head and neck relax. Lengthen the neck and release it comfortably. Your body should make a right angle to the wall. This pose is great for relieving back and neck pain.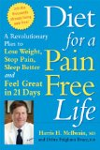 To perform the torso twist pose, follow these steps:
Come onto the floor on your hands and knees. Set your knees directly below your hips and your hands slightly forward of your shoulders. Spread your palms, index fingers parallel or slightly turned out, and turn your toes under
Lengthen your tailbone away from the back of your pelvis and press it lightly toward the pubis. Against this resistance, lift the sitting bones toward the ceiling, and from your inner ankles draw the inner legs up into the groins.
Then with an exhalation, push your top thighs back and stretch your heels onto or down toward the floor. Straighten your knees but be sure not to lock them. Firm the outer thighs and roll the upper thighs inward slightly. Narrow the front of the pelvis.
Firm the outer arms and press the bases of the index fingers actively into the floor. From these two points lift along your inner arms from the wrists to the tops of the shoulders. Firm your shoulder blades against your back, then widen them and draw them toward the tailbone. Keep the head between the upper arms; don't let it hang.
Continue Learning about Yoga