The word "asana" means to sit down or sit in a particular position. With yoga, asana means the various positions and postures. The asanas or postures are quite useful, especially if your back pain is chronic. The physical postures and daily stretches help to lubricate the body's joints and send nutrients and oxygen to the muscles, bathing them in fresh blood. Taking time to relax and enjoy stretching helps to reduce your blood pressure and relieves stress. Especially with chronic back pain, yoga can help you put life in perspective.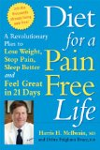 Yoga is an excellent stress-coping technique. The ultimate goal of yoga is to reach complete peacefulness of body and mind, helping you relax and manage stress and anxiety. Traditional yoga philosophy requires that students adhere to this mission through behavior, diet and meditation.
In Western countries, many people are familiar mainly with the exercise portion of yoga, usually Hatha yoga. This style of yoga is designed to encourage a calmer mind, along with improved flexibility. This system uses several positions and postures to increase mobility and flexibility and may assist in reducing low-back pain. In addition, the exercises involve deep diaphragmatic breathing techniques used to alleviate stress, and lower blood pressure and heart rate.
Continue Learning about Yoga