Exercises like yoga have been shown to help those suffering from sexual dysfunction. In fact, those who practice Tantra recommend Kundalini yoga, because it's been shown to have tantric benefits, especially if you perform the poses with a partner. This particular type of yoga can relieve your stress and relax your body. In addition, because it is a yoga of awareness, it will improve your ability to sense and understand your partner's sexual needs. Finally, Kundalini yoga helps to strengthen your pelvic floor muscles, which can be helpful when you're attempting to delay your orgasm.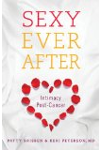 More About this Book
Sexy Ever After: Intimacy Post-Cancer
Recent studies show that 40-100 percent of men and women who have been treated for cancer have experienced some level of sexual dysfunction. Sexy Ever After: Intimacy Post-Cancer will help you...
Kundalini yoga is a form of yoga that focuses on energy shakras in the body and raising sensory awareness within the body. This from of yoga which has a heavy emphasis on meditation and awareness of your senses and your body can help improve sexual function by increasing blood flow and energy to the shakras of the body that pertain to sexuality and help improves your mind body awareness to your body and how it reacts to sexuality.
Continue Learning about Yoga