If life's got you feeling frazzled or blue, adjust your mood for the better by striking a few yoga poses. According to a small study, this popular joint-loosening, muscle-toning exercise cranks up brain levels of gamma-aminobutyric acid (GABA), a neurotransmitter that helps take the edge off anxiety and helps bust up blue moods.

It's a Real Stretch
Why is yoga such a grand spirit-lifter? It may have something to do with your nerves. In particular, a thing called your vagus nerve. This long nerve helps turn on your parasympathetic nervous system -- the part of your central nervous system that's responsible for boosting GABA and making you feel happy and relaxed. And, as it turns out, yoga does a mighty fine job of activating the vagus nerve, enabling that whole chain of feel-good events in your body to happen.

Keep On Truckin'
In fact, in the study yoga even bested walking when it came to improving people's moods. Folks who practiced an hour of Iyengar yoga three times a week experienced greater jumps in GABA levels and felt happier, more tranquil, and more energized than a control group that engaged in 3 hours of equally intense walking each week. So although all forms of exercise do a great job of increasing feel-swell brain chemicals like serotonin, dopamine, and endorphins, it's probably not a bad idea to mix in a yoga session or two each week for extra-happy measure.
Continue Learning about Yoga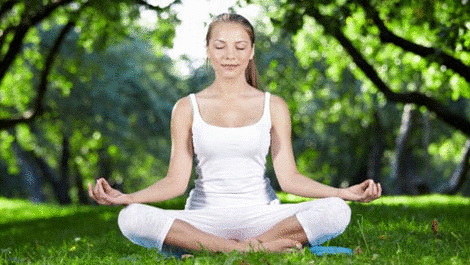 Yoga is powerful in relieving stress and aids in musculoskeletal strength. Stretching, deep breathing and toning boosts energy levels and benefits circulation and flexibility. Learn more from our experts about yoga.