In many ways, yoga is the perfect brain health exercise. As a physical activity, yoga supports your more vigorous aerobic workouts by building strength and stamina (not to dismiss the fact that yoga itself can be aerobic, depending on your practice). In addition, yoga helps build sustained focus, which we all need to learn and remember on a daily basis. Finally, yoga is a terrific resource for maintaining emotional balance, and can be used to reduce stress, anxiety, and depressed mood, all of which may lower our everyday memory performance.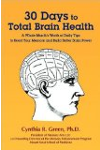 More About this Book
30 Days to Total Brain Health®
Get ready to make the move to better brain health! In this remarkably effective, scientifically-grounded plan, Dr. Cynthia Green, a clinical psychologist and one of the country's most notable experts...
Continue Learning about Yoga