Every woman has a small amount of the yeast Candida albicans in the vagina. When there is an excess of this yeast, however, a vaginal yeast infection can occur. Vaginal yeast infections are very common among women. The symptoms include itching, redness and a thick, white discharge. Typically, no odor is present. Yeast infections are treated with antifungal medications, which can come in the form of a pill, cream or suppository. Yeast infections are just one type of possible vaginal infection; bacterial vaginosis, for example, is a vaginal infection caused by bacteria.
Continue Learning about Yeast Infections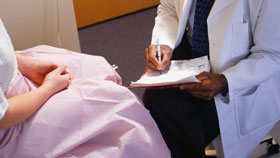 Vaginal yeast infection is the most common yeast infection. Men can get yeast infections too, and people with diabetes or compromised immune systems may also get yeast infections. Some are not genital infections, but can affect th...
e mouth or other parts of the body. Treatment is either a topical application or an oral medication. Learn more about yeast infections from our experts.
More