Thrush is a yeast infection of the mucus membrane lining of the mouth and tongue, or of the vagina. A small amount of the fungus that causes thrush, called Candida, normally resides in your mouth, and can become drug resistant. When your immune system is weak and less able to fight off infections, the fungus can grow, cause sores, and become difficult to treat.
Many people have weakened immune systems, including:
cancer patients receiving chemotherapy
people with HIV/AIDS
children, the elderly, and the ill
patients receiving steroid medications
Call your doctor if you have recurrent thrush. He or she may advise you to take antifungal medication on a regular basis.
Continue Learning about Yeast Infections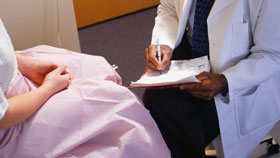 Vaginal yeast infection is the most common yeast infection. Men can get yeast infections too, and people with diabetes or compromised immune systems may also get yeast infections. Some are not genital infections, but can affect th...
e mouth or other parts of the body. Treatment is either a topical application or an oral medication. Learn more about yeast infections from our experts.
More