Most women have at least one vaginal yeast infection at some point in their life. This very common condition is caused by a fungus, called Candida or yeast. Under healthy conditions, growth of the yeast stays under control. But during times of stress or illness, the yeast can grow out of control, causing an infection. Some medications, such as antibiotics, can also lead to a yeast infection. Symptoms include vaginal itching, swelling, redness, pain and a thick white or watery discharge. If you have vaginal symptoms, see your doctor for a correct diagnosis before you start treating yourself. Often, women assume they have a yeast infection, when they actually have something else that needs different treatment. You should also see your doctor if your symptoms don't get better with treatment. Most women feel better within a few days of starting treatment.
Continue Learning about Yeast Infections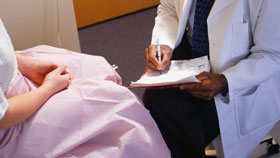 Vaginal yeast infection is the most common yeast infection. Men can get yeast infections too, and people with diabetes or compromised immune systems may also get yeast infections. Some are not genital infections, but can affect th...
e mouth or other parts of the body. Treatment is either a topical application or an oral medication. Learn more about yeast infections from our experts.
More