Various factors can increase a person's risk for candidiasis. Taking corticosteroids can decrease immune functions and increase risk of infection. Taking antibiotics can kill healthy bacteria. Poorly-controlled diabetes, immune disorders like HIV, and some cancer treatments also increase a person's risk. Elevated levels of estrogen create higher risk in pregnant women and those taking estrogen-based birth control pills or estrogen replacement therapy. Tight clothing that doesn't breathe, high humidity, and poor personal hygiene can also increase risk for candidiasis.
Continue Learning about Yeast Infections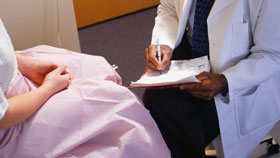 Vaginal yeast infection is the most common yeast infection. Men can get yeast infections too, and people with diabetes or compromised immune systems may also get yeast infections. Some are not genital infections, but can affect th...
e mouth or other parts of the body. Treatment is either a topical application or an oral medication. Learn more about yeast infections from our experts.
More