The main causes of yeast overgrowth in the gut include taking certain antibiotics and medications, and a diet high in alcohol, sugar and carbs. Watch functional medicine specialist Amy Myers, MD, explain what causes yeast overgrowth in the body.
Two of the main causes of yeast overgrowth in the body are the overuse of antibiotics and a poor diet. Watch as functional medicine expert Elizabeth Boham, MD, explains how chronic use of antibiotics and sugary foods contribute to yeast overgrowth.
Continue Learning about Yeast Infections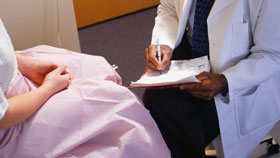 Vaginal yeast infection is the most common yeast infection. Men can get yeast infections too, and people with diabetes or compromised immune systems may also get yeast infections. Some are not genital infections, but can affect th...
e mouth or other parts of the body. Treatment is either a topical application or an oral medication. Learn more about yeast infections from our experts.
More