Yeast overgrowth is treated by changing your diet, taking herbal supplements, and also with prescription medications. In this video, functional medicine specialist Amy Myers, MD, discusses the most effective treatment options for yeast overgrowth.
To treat yeast overgrowth in the intestines, the focus should be on diet and cutting out any foods that have added sugar. Watch functional medicine expert Elizabeth Boham, MD, describe the foods you should avoid, and the foods you should be eating.
Continue Learning about Yeast Infections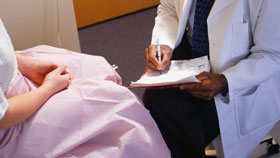 Vaginal yeast infection is the most common yeast infection. Men can get yeast infections too, and people with diabetes or compromised immune systems may also get yeast infections. Some are not genital infections, but can affect th...
e mouth or other parts of the body. Treatment is either a topical application or an oral medication. Learn more about yeast infections from our experts.
More