Infant yeast infection should be treated with a topical antifungal medicine such as nystatin four times a day. There are combination antifungal/steroid creams available, but the risk is that overusing steroid cream on sensitive private parts or the face can lead to a thinning out of the skin permanently, with what are called "atrophic changes." It's worth avoiding, and if you can get away with no steroid but just antifungal medicines for yeast infections, that is safer for Junior's bottom.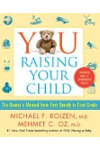 Your baby's yeast infection can be treated as follows:
To treat thrush in the baby's mouth, the doctor will prescribe a liquid medication called Nystatin. Follow the package directions to gently rub the medication on your baby's tongue, cheeks and gums. This is usually done after a feeding, four times a day for two days. If you are using a breast pump, pacifier or bottle nipple, you must boil it for 20 minutes, run it through a dishwasher or use a micro-steam sanitizer each day. Note that boiling may wear down bottle nipples and pacifiers, so you may have to use new ones after one week of boiling.
Wash your baby's toys often in hot, soapy water to prevent your baby from becoming reinfected.
To treat a yeast diaper rash, you doctor will prescribe an ointment that you will apply to the diaper area at least four times a day for two weeks. You should also try not to use diaper wipes from stores. Instead, use clear water and non-scented tissues or washcloths and pat dry. Soaking the diaper area in warm water for 5 to 10 minutes, four times a day, and then letting your baby's bottom air dry, can also be soothing for your baby.
Continue Learning about Yeast Infections