Symptoms of a yeast infection are pain, swelling, redness, and soreness in the vagina and surrounding area. Severe itching and burning may also be present, particularly while urinating or having sexual intercourse. Most noticeable is often the white discharge that may sometimes be thick and have a lumpy consistency. There is usually no odor to this discharge. Yeast infections that return more than four times a year are considered chronic.
Continue Learning about Yeast Infections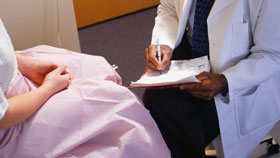 Vaginal yeast infection is the most common yeast infection. Men can get yeast infections too, and people with diabetes or compromised immune systems may also get yeast infections. Some are not genital infections, but can affect th...
e mouth or other parts of the body. Treatment is either a topical application or an oral medication. Learn more about yeast infections from our experts.
More