The most common symptom of a yeast infection is extreme itchiness in and around the vagina.
Other symptoms include:
Burning, redness, and swelling of the vagina and the vulva, pain when passing urine, pain during sex, soreness, a thick, white vaginal discharge that looks like cottage cheese and does not have a bad smell, and a rash on the vagina.
You may only have a few of these symptoms. They may be mild or severe.
This answer is based on source information from the National Women's Health Information Center.
Continue Learning about Yeast Infections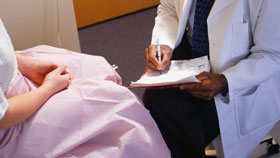 Vaginal yeast infection is the most common yeast infection. Men can get yeast infections too, and people with diabetes or compromised immune systems may also get yeast infections. Some are not genital infections, but can affect th...
e mouth or other parts of the body. Treatment is either a topical application or an oral medication. Learn more about yeast infections from our experts.
More