Oral thrush is a yeast infection and may have an acute state and a chronic stage. The acute stage is usually associated with pain or burning and there is a superficial sore. If untreated, the acute stage may advance into a chronic stage with pain, burning, and redness. The chronic stage is often associated with denture wear, mouth-guard wear, and systemic diseases such as diabetes.
Oral thrush is a yeast infection of the mouth and is caused by the organism Candida albicans. It is most common in babies and people who wear poorly fitting dentures, but anyone can get it. If not treated while pregnant, mothers can pass a yeast infection on to their babies during childbirth. It is minor, as is a vaginal yeast infection; however, it can also become difficult to treat if the affected person is immunocompromised, has uncontrolled diabetes, or is taking antibiotics.
Continue Learning about Yeast Infections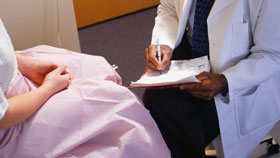 Vaginal yeast infection is the most common yeast infection. Men can get yeast infections too, and people with diabetes or compromised immune systems may also get yeast infections. Some are not genital infections, but can affect th...
e mouth or other parts of the body. Treatment is either a topical application or an oral medication. Learn more about yeast infections from our experts.
More