Yes, it is very safe to use over-the-counter medications for yeast infections. Most of the over-the-counter medications are just milder dosages of prescription medications. When patients are using over-the-counter medications, I believe that a 3-night course is much better than the one night treatment. Many patients that use the one night treatment get partial cure, but the infection comes back; and that is the reason I believe a longer treatment is necessary. If after the 3-night treatment the patient is not better, then she is to call my office for an evaluation. Many patients will want to call the office to obtain a 1-day pill of fluconazole to rid themselves of an infection. This is a very efficient and good way to remedy a vaginal yeast infection. The problem is that this medication taken over long periods of time can cause liver problems as well as there is a possibility that the yeast could build up a resistance, and this stronger more resistant yeast infection could be very difficult to treat in the future.
Continue Learning about Yeast Infections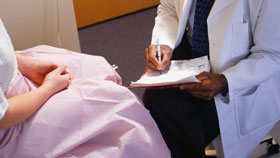 Vaginal yeast infection is the most common yeast infection. Men can get yeast infections too, and people with diabetes or compromised immune systems may also get yeast infections. Some are not genital infections, but can affect th...
e mouth or other parts of the body. Treatment is either a topical application or an oral medication. Learn more about yeast infections from our experts.
More