Some women feel as if their yeast infection simply never clears up. Having an infection with symptoms 4 or more times a year is considered recurrent yeast infection. There is no strong agreement on how best to manage this troublesome situation. Some regimens that have been considered are a longer dose of oral anti-fungal tablet fluconazole, repeated dosing of fluconazole on a weekly schedule, or using a boric acid suppository. This last treatment needs to be specially made by a pharmacist with compounding license. Recurrent yeast infection should be monitored and treated by your licensed healthcare clinician.
For a chronic yeast infection your doctor will probably prescribe a dose of antifungal cream or ointment for up to 14 days. Alternatively he might prescribe a one time dose of fluconazole, which works just as well as all the vaginal ointments and creams. However, several doses of medication may have to be taken in hard to treat cases. A maintenance regimen may also be started to keep the infection from recurring. This is usually done once the first infection is gone.
Continue Learning about Yeast Infections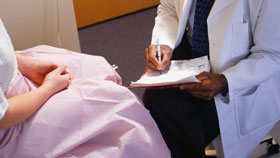 Vaginal yeast infection is the most common yeast infection. Men can get yeast infections too, and people with diabetes or compromised immune systems may also get yeast infections. Some are not genital infections, but can affect th...
e mouth or other parts of the body. Treatment is either a topical application or an oral medication. Learn more about yeast infections from our experts.
More