Yes, chronic yeast infections are very serious in the fact that they could be the outward symptoms of a more serious systemic illness. The most common illness that is seen with chronic yeast infections is diabetes. Many patients are first diagnosed with their diabetes due to their chronic yeast infections. Other times, the candida fungus can then get in the patient's blood stream causing severe fatigue syndrome as well as rashes on other parts of the body. If you do suspect that you have chronic yeast, there are treatments with antifungal medications as well as dietary changes that can help with this problem, but first, you must make sure that you do not have an underlying medical illness that is causing depression of your immune system causing you to have this chronic yeast infection.
A yeast infection that responds to medication is not serious and will allow you to live a normal life. A chronic yeast infection, although also not serious, can put a constraint on otherwise normal activities. Sexual intercourse, for example, is something that might have to be avoided due to pain and this may lead a woman to feel unattractive and undesirable.
Continue Learning about Yeast Infections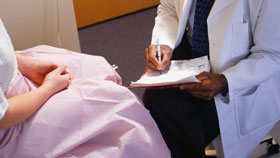 Vaginal yeast infection is the most common yeast infection. Men can get yeast infections too, and people with diabetes or compromised immune systems may also get yeast infections. Some are not genital infections, but can affect th...
e mouth or other parts of the body. Treatment is either a topical application or an oral medication. Learn more about yeast infections from our experts.
More