Commonly cited causes of recurrent yeast infections, 4 or more infections with symptoms in 12 months, are frequent use of antibiotics and weakened immune systems. Some causes of weakened immune systems are diabetes and HIV, but your immune system is also weakened by chronically inadequate sleep and poor diet. There is very little evidence to link clothing, such as sweaty gym clothes, to yeast infections. Recurrent yeast infections seem to be relapse of the same yeast over and over rather than infections with a new type of yeast. Finally, recent research is highlighting another possible cause of recurrent yeast infections. Yeast is always present in the body but it is typically a small population that causes no symptoms. Some women have been identified as having genetic variants of two proteins, mannose binding lectin and interleukin-4, that seem to increase their reaction to the typical yeast population and cause symptoms. As yet there is no clinically useful test to identify or treat these women but it is an area of research to watch for future development.
Women who are pregnant, overweight, taking estrogen hormones, or have uncontrolled diabetes have an increased risk of developing a chronic yeast infection. Weakened immune systems leave a woman at high risk for a yeast infection as well. Yeast is always present in the human body and will do no harm as long as there is good bacteria to keep it at bay. Antibiotic use can destroy good bacteria thereby allowing the yeast to take over. Because women can have yeast infections without having sexual intercourse, it is not considered a sexually transmitted disease, however it can be spread to your partner through sexual intercourse.
Continue Learning about Yeast Infections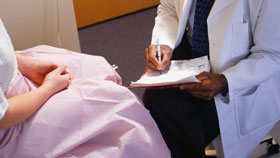 Vaginal yeast infection is the most common yeast infection. Men can get yeast infections too, and people with diabetes or compromised immune systems may also get yeast infections. Some are not genital infections, but can affect th...
e mouth or other parts of the body. Treatment is either a topical application or an oral medication. Learn more about yeast infections from our experts.
More