The most common signs of a yeast infection are itching and a thick white discharge. There is an over the counter test for infections that is fairly reliable. I recommend that a patient use a three night over the counter cream and if this does not work then she should seek medical attention.
You know you have a yeast infection because the fungus comes along with its four best friends - redness, discharge (usually white and cottage cheesy), itching, and irritation. Though yeast infections are uncomfortable, they're not considered a serious health threat. Anti-fungal medications can help; topical medication can be messy, so talk to your doctor about oral treatments for use if pregnant.
Continue Learning about Yeast Infections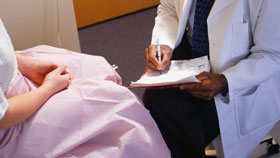 Vaginal yeast infection is the most common yeast infection. Men can get yeast infections too, and people with diabetes or compromised immune systems may also get yeast infections. Some are not genital infections, but can affect th...
e mouth or other parts of the body. Treatment is either a topical application or an oral medication. Learn more about yeast infections from our experts.
More