The distinctive symptoms of rashes, itching, and discharge from candidiasis are clues that a fungal infection is present, and usually will be enough for a diagnosis. A doctor may take a small sample of the affected tissue and examines it with a microscope to find out what is causing the infection. If it is necessary to pinpoint the exact species of fungus, the doctor may order laboratory tests or grow a sample of the fungus using a small amount of your blood or tissue.
Continue Learning about Yeast Infections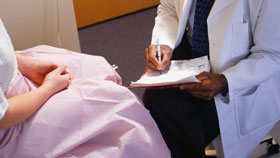 Vaginal yeast infection is the most common yeast infection. Men can get yeast infections too, and people with diabetes or compromised immune systems may also get yeast infections. Some are not genital infections, but can affect th...
e mouth or other parts of the body. Treatment is either a topical application or an oral medication. Learn more about yeast infections from our experts.
More