If a patient has chronic yeast infections, it is important that she seeks medical attention. Chronic yeast infections can be caused by underlying diabetes. A chronic yeast infection is a patient who has had either a yeast infection lasting greater than 2 months or a patient who has had more than 4 yeast infections in a year. These patients need to possibly have a consultation with a dietitian to help change their diet to decrease carbohydrates as well as decrease any simple sugars. Also, these patients should be placed on probiotics in which to fortify their body with good bacteria and to be very careful when they take any antibiotic treatments.

Your doctor will probably do a pelvic examination, after conducting a brief medical history to determine if you have had this condition before. A sample of the discharge will be taken and sent to the lab to be cultured. This will determine what form of the fungus is present and how it should be treated.
Continue Learning about Yeast Infections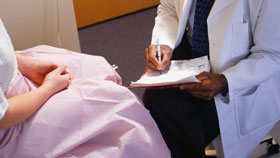 Vaginal yeast infection is the most common yeast infection. Men can get yeast infections too, and people with diabetes or compromised immune systems may also get yeast infections. Some are not genital infections, but can affect th...
e mouth or other parts of the body. Treatment is either a topical application or an oral medication. Learn more about yeast infections from our experts.
More