A chronic yeast infection can be very uncomfortable and embarrassing. Itching, redness, and swollenness is aggravated by contact with undergarments and a discharge leaves you feeling soiled. Sexual intercourse, as well as simply urinating, can be very painful. Multiplied times four or more infections per year and this can put a damper on your lifestyle. Chronic yeast infections may be an indication of other health problems, so you should check with your doctor if the infection reoccurs.
Continue Learning about Yeast Infections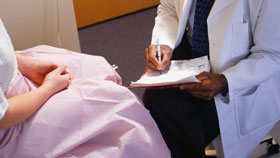 Vaginal yeast infection is the most common yeast infection. Men can get yeast infections too, and people with diabetes or compromised immune systems may also get yeast infections. Some are not genital infections, but can affect th...
e mouth or other parts of the body. Treatment is either a topical application or an oral medication. Learn more about yeast infections from our experts.
More