To help heal and prevent rashes, keep the child's skin clean and dry. Allow the skin to be exposed to fresh air whenever this is practical. Change soiled or wet diapers right away, and don't use plastic diaper pants. Use antifungal cream as prescribed by your doctor. If your child has thrush (candidiasis in the mouth) the condition often goes away on its own. Sterilize bottle nipples and pacifiers, and throw them away once the condition clears up. If your child has mouth sores that last more than two weeks, see your doctor.
Continue Learning about Yeast Infections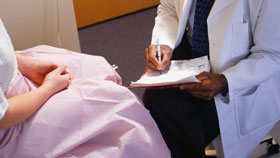 Vaginal yeast infection is the most common yeast infection. Men can get yeast infections too, and people with diabetes or compromised immune systems may also get yeast infections. Some are not genital infections, but can affect th...
e mouth or other parts of the body. Treatment is either a topical application or an oral medication. Learn more about yeast infections from our experts.
More