Both men and women may get some kinds of candidiasis; in the mouth, for example, candidiasis is known as thrush. People being treated for cancer, obese people, and diabetics are all more likely to suffer from candidiasis regardless of sex. But pregnant women and women with elevated estrogen levels can also be more susceptible to candidiasis. Vaginal candidiasis is fairly common, with about 75 percent of women having at least one vaginal yeast infection sometime in life. Uncircumcised men are also more susceptible to candidiasis.
Continue Learning about Yeast Infections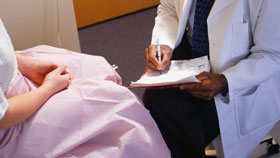 Vaginal yeast infection is the most common yeast infection. Men can get yeast infections too, and people with diabetes or compromised immune systems may also get yeast infections. Some are not genital infections, but can affect th...
e mouth or other parts of the body. Treatment is either a topical application or an oral medication. Learn more about yeast infections from our experts.
More