You should see a doctor especially if
Your child has mouth sores that last more than two weeks.
You have mouth sores or difficulty swallowing.
You are HIV positive.
You are in treatment for cancer.
Your immune system is suppressed.
You have other unexplained symptoms.
Non-prescription treatments for vaginal yeast infection are not working.
Untreated candidiasis can infect your internal organs, so it's important to have a doctor diagnose the cause of the infection and treat it appropriately.
Continue Learning about Yeast Infections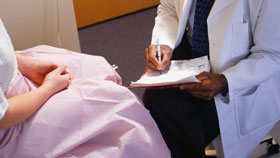 Vaginal yeast infection is the most common yeast infection. Men can get yeast infections too, and people with diabetes or compromised immune systems may also get yeast infections. Some are not genital infections, but can affect th...
e mouth or other parts of the body. Treatment is either a topical application or an oral medication. Learn more about yeast infections from our experts.
More