Yes, chronic yeast infections can be prevented once the underlying diagnosis is discovered. If the patient does not have any type of underlying cause for her chronic yeast infections, the best way to treat chronic yeast infections is by changing her diet. A diet with less carbohydrates and no simple sugars as well as a diet rich in probiotics such as acidophilus can help change and decrease the recurrence of the patient's yeast infections.

Certain measures can be taken to reduce the risk of getting chronic yeast infections. Some of these include wearing panties made only of cotton that do not fit too snugly, as well as avoiding tight pantyhose, skirts, and pants. You should stay away from feminine products that are perfumed, especially douches. Make sure your tampons and pads are unscented. Avoid hot tubs and extremely hot baths, and after swimming, change out of your wet clothes immediately. If you are prone to chronic yeast infections, you can also take an oral antifungal to prevent repeated occurrences of the infection.
Continue Learning about Yeast Infections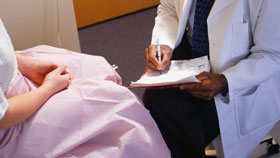 Vaginal yeast infection is the most common yeast infection. Men can get yeast infections too, and people with diabetes or compromised immune systems may also get yeast infections. Some are not genital infections, but can affect th...
e mouth or other parts of the body. Treatment is either a topical application or an oral medication. Learn more about yeast infections from our experts.
More