When a child gets a yeast infection it is usually in the form of a diaper rash. The symptoms are similar in regards to redness, swelling, and pain. Candida, as in adult infections, may be the culprit that causes a diaper rash (it could also be from irritation or an allergic reaction). Additionally, wetness, acid from stools—particularly diarrhea—and diapers that are too tight can also add to the problem. Preventative measures include many of the same issues, such as keeping the child clean, dry and free of perfumed products. A persistent, raised, red rash with red dots beyond the edge of the rash may require an antifungal cream or ointment from the pediatrician.
Continue Learning about Yeast Infections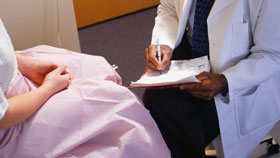 Vaginal yeast infection is the most common yeast infection. Men can get yeast infections too, and people with diabetes or compromised immune systems may also get yeast infections. Some are not genital infections, but can affect th...
e mouth or other parts of the body. Treatment is either a topical application or an oral medication. Learn more about yeast infections from our experts.
More