The concept of the ideal body is highly individualized and relative. Each woman has her own perception on what the beautiful and or proportionate body is. Those whom are truly significantly above their ideal body weight may attempt diet and exercise. Unfortunately, both genetics and increased age with hormonal changes may make it impossible to lose excess weight.
Our physical characteristics are, for the most part, beyond our control. But many of us have difficulty accepting our bodies, and we spend a tremendous amount of time and money battling nature. For Americans, "self-improvement" rarely means building our character or increasing our contributions to the world; rather, improving ourselves usually means altering our appearance. Many of us believe that by losing weight or getting a face-lift, we can become better people. We spend billions of dollars in the hope that we can transform ourselves from the outside in.
In reality, the average American woman will never be able to turn herself into a 5'11", 117-pound supermodel, no matter how hard she tries. To achieve the "curvaceously thin" body type - which is rarely seen in real life - we would not only need to starve ourselves, we would have to resort to risky liposuction and breast implants.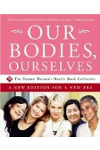 Continue Learning about Women's Health