For women, two issues in particular contribute to depressed shoulders. The first is an ill-fitting bra with straps that are located over the outer shoulder or where the collarbone meets the scapula. This creates a long lever arm that pulls the shoulder down. To understand how this affects scapular positioning, hold your arm out to your side at shoulder height with a five-pound weight in your hand. With your arm still stretched out to the side, now put the five-pound weight on your shoulder. You'll notice it's much easier to hold the weight up when it's on your shoulder than when it's in your outstretched hand. When you're holding something up (the weight in this case), the further it is from the body, the more work it will be to maintain. The closer it is to your center, the easier it will be to hold up. Bra straps that loop over the outer shoulder rather than closer to the neck have the same effect on the scapula: They drag it down over time. This is especially important for women with large breasts. I've seen bra straps that severely dig into the shoulder from the weight they carry, pulling the shoulder blades downward. Wide straps that pass closer to the neck or cross in the back can unburden the shoulder by shortening the lever arm pulling down on the scapula, alleviating shoulder pain. Some department stores have personnel who specialize in fitting bras. When working with someone, be sure to mention your shoulder issues and the need to unload the shoulder blade as much as possible.

The second problem particular to women is carrying a heavy bag or purse over one shoulder that drags the shoulder down, contributing to a depressed or abducted scapula. Some solutions for this include periodically switching the bag between shoulders, using bags that have double straps to disperse the weight (as in a backpack) -- or simply cleaning out your bag to reduce the load.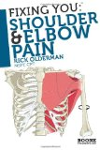 Continue Learning about Women's Health

Did you know that women are more likely to seek medical care than men? Sexual health needs, like pregnancy and contraception, often necessitate early visits to a doctor. But as we age, various health issues affect women more than ...
men, including depression, weight problems, and certain types of arthritis.In order to maintain your health and wellness, make sure you get an annual checkup.
More