The recommendation to avoid douche in the vagina is decades old. A new study, however, sheds new light on the subject. Many vaginal douche products contain fragrance preserving chemicals called phthalates (pronounced "thal-ate"). This is a rapidly developing field of information. Numerous studies have linked phthalate exposure before birth, when the pregnant women shows evidence of exposure because her urine contains the breakdown products of phthalates, and cognitive and behavioral problems in her child (Ejaredar M., et al. 2015). It is possible that these chemicals are even more easily absorbed through the thin tissue of the vagina. While the new study did not look for a connection to health problems, it did show that the more women used douche, the higher the levels of phthalate metabolites in their urine (Zota A., et al. 2015). It also showed ethnic differences. Black women use douche more frequently and, as a group, showed the highest levels of phthalates.
So while the amount of information grows, and formal guidelines and regulations have yet to catch up, what can you do? Always ask: Is a potential risk worth any benefit I will get? In the case of vaginal douche, the answer has to be "no." Using douche changes the healthy balance of the vaginal environment, it can cover an unhealthy situation such as an infection and delay you getting the correct treatment, and it seems it may even have long-term risks.
If you notice a smell or have an infection, douching or using different kinds of soaps can actually make the problem worse instead of better. And some people think they should douche whenever they have their cycle. We do not recommend frequent douching because it doesn't really help. Instead, you want to get to the cause of the smell or infection and treat that instead of douche.
Like your oven, the vagina is self-cleaning. Even though a douche may make you feel fresh for a short time, it doesn't eliminate discharge or odor, nor does it provide any contraceptive benefit. In fact, douching promotes the growth of bacteria and may increase your risk of pelvic inflammatory disease by transporting Chlamydia or gonorrhea up into the uterus. In addition, vinegar and betadine in douches can dry vaginal walls and increase inflammation. In spite of the fact that it's ineffective, unnecessary and potentially harmful, a surprising number of women still douche.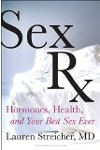 More About this Book
Sex Rx: Hormones, Health, and Your Best Sex Ever
For millions of women in America, sex isn't always pleasurable or even possible. Instead, sex has become a low priority as they navigate marriage, motherhood, and work . . . not to mention cope with chronic stress and lack of sleep. Throw in the natural fluctuations in hormone levels that all women experience throughout their lives and it's not surprising that sex can become, well, a little less sexy. Additionally, common gynecological problems can make sex uncomfortable, and medical issues can cause it to be downright painful.Dr. Lauren Streicher, a leading women's sexual health expert, offers women the courage, vocabulary, and knowledge to identify and solve problems in the bedroom, for a wide range of issues—from flagging libido, vaginal dryness, and sex after menopause, to hormone supplements and the effects of medication, Sex Rx offers a wealth of knowledge, along with a good dose of humor and plenty of encouragement, so that every woman, no matter what personal challenges she has, can make having great sex a part of their lives forever.Sex Rx was originally published in hardcover as Love Sex Again.
Continue Learning about Women's Health