Many women fear breast cancer the most, followed by ovarian cancer. But the number one killer of women, by a huge margin, is heart disease. Fear of specific illnesses is universal, based on our individual life experiences, but it's important to plan -- and live -- your life based on what is most likely to kill you, rather than on what you're most afraid of.

More women die of heart disease each year than of all cancers combined. Ten times as many women die of heart disease as breast cancer. In fact, cardiovascular diseases (heart disease and stroke) kill more women than the next seven causes of death combined.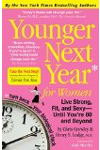 Continue Learning about Women's Health

Did you know that women are more likely to seek medical care than men? Sexual health needs, like pregnancy and contraception, often necessitate early visits to a doctor. But as we age, various health issues affect women more than ...
men, including depression, weight problems, and certain types of arthritis.In order to maintain your health and wellness, make sure you get an annual checkup.
More