The stages of reproductive aging include the following:
Reproductive phase
Menstrual cycles are regular for many women.

Early menopausal transition
Cycles may be irregular, varying by 7 more days.

Late menopausal transition
Women may skip cycles, having no period for >42 days.
Final period (Menopause)

Early postmenopause (the first five years after the last period)

No periods.

Late postmenopause
No periods.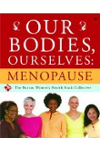 More About this Book
Our Bodies, Ourselves: Menopause
FROM THE EDITORS OF THE CLASSIC "BIBLE OF WOMEN'S HEALTH," A TRUSTWORTHY, UP-TO-DATE GUIDE TO HELP EVERY WOMAN NAVIGATE THE MENOPAUSE TRANSITION For decades, millions of women have relied on Our...
Continue Learning about Women's Health

Did you know that women are more likely to seek medical care than men? Sexual health needs, like pregnancy and contraception, often necessitate early visits to a doctor. But as we age, various health issues affect women more than ...
men, including depression, weight problems, and certain types of arthritis.In order to maintain your health and wellness, make sure you get an annual checkup.
More