The stages of reproductive aging include the following:
Reproductive phase
Menstrual cycles are regular for many women.

Early menopausal transition
Cycles may be irregular, varying by 7 more days.

Late menopausal transition
Women may skip cycles, having no period for >42 days.
Final period (Menopause)

Early postmenopause (the first five years after the last period)

No periods.

Late postmenopause
No periods.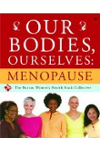 More About this Book
Our Bodies, Ourselves: Menopause
FROM THE EDITORS OF THE CLASSIC "BIBLE OF WOMEN'S HEALTH," A TRUSTWORTHY, UP-TO-DATE GUIDE TO HELP EVERY WOMAN NAVIGATE THE MENOPAUSE TRANSITION For decades, millions of women have relied on Our...
Continue Learning about Women's Health