Women today work in all sectors of the U.S. economy and face the same, if not more, often dangerous conditions that men face. Their work often involves sustained, repetitive effort, or standing or sitting in a static position. Yet, their concerns about health and safety do not always find a receptive audience. Here are some additional challenges they face:
Many women work in low-paying and stressful occupations. They often have low seniority, or jobs that place them in care-giving or support-based roles, so they hesitate to complain about hazards.
Their responsibilities at home make it harder for them to get involved in after-work meetings about working conditions. Sixty-five percent of working women who are caregivers report having to make workplace adjustments that include having to go in late to work, leave early, take time off, request unpaid leave, shift from a full-time job to a part-time job (which usually means losing benefits), turn down promotions, or quit working.
Fewer women than men belong to labor unions, and many sectors where women work are not unionized, so organizing is more difficult. Yet, women's vocal presence in the workplace is changing the way people think about health and safety issues.
Women living in poverty, rural women and women of color are prime candidates for high risk jobs. Approximately 85 percent of migrant farm workers are people of color, mostly Latino, many young, who rarely have access to worker's compensation, occupational rehabilitation or disability compensation. While many of them are eligible for Medicaid and food stamps, not all can avail these benefits due to language barriers. Children of undocumented immigrants may be eligible for benefits, but the fear of being deported prevents these women from contacting the authorities. Many of them also have no health insurance.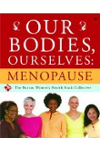 More About this Book
Our Bodies, Ourselves: Menopause
FROM THE EDITORS OF THE CLASSIC "BIBLE OF WOMEN'S HEALTH," A TRUSTWORTHY, UP-TO-DATE GUIDE TO HELP EVERY WOMAN NAVIGATE THE MENOPAUSE TRANSITION For decades, millions of women have relied on Our...
Continue Learning about Women's Health