When estrogen levels remain low, less moisture comes through the vaginal wall to provide lubrication during intercourse. The elastic and collagen fibers that give the opening strength and stretchiness decrease in number, and the skin of the opening becomes thinner and less protective. Sometimes, the opening shrinks and becomes quite narrow. The thinning of the skin can make penetration more uncomfortable than pleasurable for some women, and when the vaginal opening narrows, intercourse can be very painful. When a woman stops having vaginal intercourse due to pain, the changes may worsen even faster. In rare, extreme cases, thinning of the tissue may lead to tiny abrasions that cause the sides of the vaginal opening to stick together and the opening may become fused closed in places.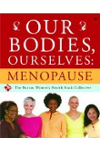 More About this Book
Our Bodies, Ourselves: Menopause
FROM THE EDITORS OF THE CLASSIC "BIBLE OF WOMEN'S HEALTH," A TRUSTWORTHY, UP-TO-DATE GUIDE TO HELP EVERY WOMAN NAVIGATE THE MENOPAUSE TRANSITION For decades, millions of women have relied on Our...
Continue Learning about Women's Health
Did you know that women are more likely to seek medical care than men? Sexual health needs, like pregnancy and contraception, often necessitate early visits to a doctor. But as we age, various health issues affect women more than ...
men, including depression, weight problems, and certain types of arthritis.In order to maintain your health and wellness, make sure you get an annual checkup.
More