Atrophy is the most common cause of painful intercourse after menopause. When estrogen levels remain low, the rugae flatten and may disappear altogether. Secretions dry up. The vagina becomes shorter, narrower, dryer, and less stretchy. While many women have no symptoms at all, others experience vulvo-vaginal irritation or dryness. Still others are unable to tolerate vaginal penetration or intercourse.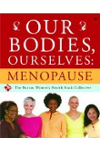 More About this Book
Our Bodies, Ourselves: Menopause
FROM THE EDITORS OF THE CLASSIC "BIBLE OF WOMEN'S HEALTH," A TRUSTWORTHY, UP-TO-DATE GUIDE TO HELP EVERY WOMAN NAVIGATE THE MENOPAUSE TRANSITION For decades, millions of women have relied on Our...
Continue Learning about Women's Health

Did you know that women are more likely to seek medical care than men? Sexual health needs, like pregnancy and contraception, often necessitate early visits to a doctor. But as we age, various health issues affect women more than ...
men, including depression, weight problems, and certain types of arthritis.In order to maintain your health and wellness, make sure you get an annual checkup.
More