The outer lips (labia majora) are the fleshy folds of skin, fat tissue, and smooth muscle that enclose the vaginal opening. Pubic hair, which may be plentiful or sparse depending on the individual, grows along the outer edges of the labia.
The outer, hair-covered genital lips are called the labia majora. They are mounds of fatty tissue covered by normal, hair-bearing skin. Before puberty, the labia majora are hairless and nearly flat. When estrogen, progesterone, and androgens are produced at puberty, the labia majora develop fatty tissue and hair. When hormone levels are low for a prolonged length of time, the labia majora may become flatter, or lax, with less hair. This is a sign of atrophy, or thinning, of the genital tissue.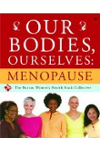 More About this Book
Our Bodies, Ourselves: Menopause
FROM THE EDITORS OF THE CLASSIC "BIBLE OF WOMEN'S HEALTH," A TRUSTWORTHY, UP-TO-DATE GUIDE TO HELP EVERY WOMAN NAVIGATE THE MENOPAUSE TRANSITION For decades, millions of women have relied on Our...
Continue Learning about Women's Health